Boomi World 17 - The first Dell-Boomi Customer Conference has been concluded, and I'm recording impressions and events. The first impression is high quality – even though this was the first event, and the planing and execution was done in four months, the overall fit and finish was great. Consistent, high quality signage and branding; a quality AV/show production team for the live sessions, and a nice partner expo set up that fit the space and the traffic. The expo felt busy and active without seeming claustrophobic.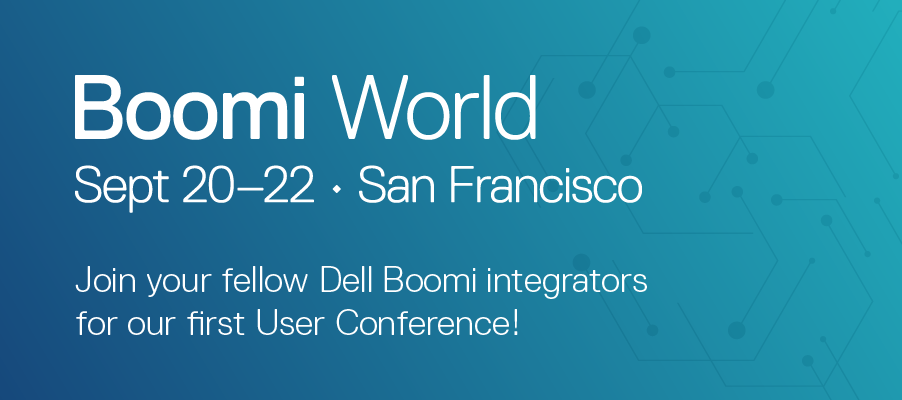 We at Kitepipe had a great show. As an All-Boomi services team, Boomi World was an essential event for us, and we pulled out all of the stops. We had 4 goals for Boomi World:
First and most important, it was an opportunity for us to connect in person with our customers. We have now worked closely with 150+ people at 40 plus customers over the last few years, and in many cases have never met these people. So it was a great opportunity for the Kitepipe team to meet their customer counterparts, make a connection, and build a deeper relationship. We brought 9 of our consulting team members to the show, so we always had a large and knowledgeable team at the Kitepipe booth.

Almost as important, it was a chance for the Kitepipe team to get together. As a largely virtual team, we are only all in he same room a few times a year. So it was a chance to refresh ties, renew our team values, and welcome new members.

Next, it was an opportunity to connect with the Boomi team. As a Boomi-focused services provider, the Dell-Boomi relationship is our most important one. We connected with Boomi at a number of points this week: sales leads, marketing initiatives, product plans, and services coordination all were connection points at Boomi World.

Finally, we had an opportunity to meet new prospects and potential customers. At Kitepipe we specialize in more advanced and complex Boomi projects and architectures, including the

MDM

, API management, Queueing and Workflow technologies. Many Boomi users have implemented successful point to point integrations, and are ready to use the more sophisticated and powerful modules. Kitepipe is a great partner to help existing Boomi customers implement these solutions.
All in all it was a great show. Many thanks to Dell Boomi and our customers for a great event!
Best, Larry